If you seek an adventure of a lifetime, and an escape that rejuvenates you, trout fishing at Tirthan Valley is for you. Tirthan Valley is an exotic spot that is untouched by commercialization and all the hoopla that surrounds other hill stations. If you want a peaceful fishing experience, this spot is for you. Fishing season here lasts from March till October and if you start now, you will be able to find some really nice Rainbow and Brown Trout.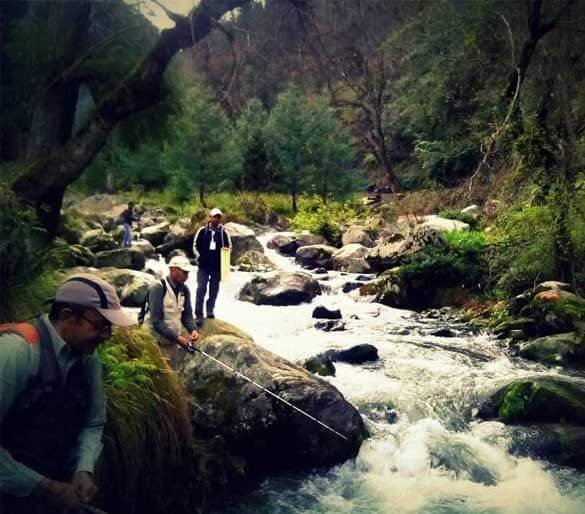 A very popular spot for fishing in the Tirthan Valley is Gushaini. If you happen to visit at the peak of the season you'll be able to see a few more travelers there just like yourself in the middle of setting camps and base for angling. The 'Wild Brown Trout' and the 'Rainbow Trout' are very famous here and if you really want to enjoy your fishing trip, don't forget to grab a crate of cold beer bottles and a basket of snacks. If you find this spot too crowded which is quite unlikely, you can find other spots like Ghiyaghi where you can catch fish sitting all by yourself in peace. You can get there in just 2 minutes. Just walk from 'Shringi Vatika' to the 'Jalori Pass' and you're there. You can sit on the rocks right in the middle of the river which makes angling much easier.
You will catch the Rainbow Trout very easily. This fish are usually escapees from the local fisheries and can be very easily caught for they are only used to fishery feeding. The Brown Trout is of European origins. They were introduced to Himalayan streams in 1920. And a final word of caution; if you happen to catch one, make sure not to stick your fingers in its mouth. They have sharp teeth and can cause you serious harm.
For the secret spots lover type
So while you are busy packing your fishing rod and other trekking stuff for Tirthan Valley, let the team of Tirthan Valley Stay take care of your stay arrangements. You can check out the most delightful and comfortable homestay options as well as guest houses listed at
www.tirthanvalleystay.com
So it's time for fishing. Let's go!