No more ordinary destination this vacation – If this is the goal, you must read this article to know more about the quaint charm of Tirthan Valley and an incredible experience of staying in Holiday Camp & Cottages.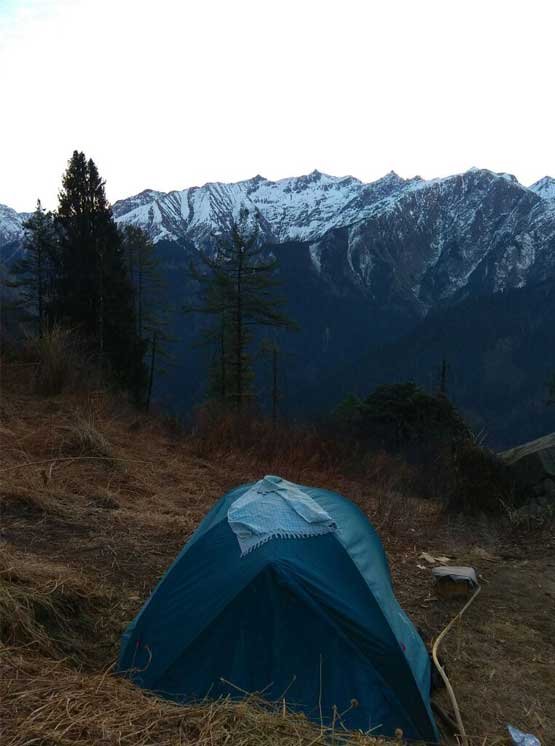 Welcome to Tirthan Valley
Tirthan Valley welcomes you with its splendid virgin beauty and inspirational nature. Lush greenery sprawling over vast acres of land entice every tourists and add to it the charm of Tirthan River where you can make your dream of catching trout fish come true. Located 70 kms from Kullu, Tirthan Valley was once a trekkers-only place; the good News is today it is a passionate traveller's favourite. It is one trip that will give you some unforgettable memories of a once-in-lifetime experience of Adventure Camping in Tirthan Valley.
The flora and fauna in Tirthan Valley is a breathtaking sight showcasing a soft natural green cover amid the backdrop of snow-capped mighty Himalayas. Plus, for nature-advneture lovers, here is a chance to explore Great Himalayan National Park (GHNP)!
Where to stay in Tirthan Valley
Most of the travelers, however still feel a little doubtful about the stay arrangements in Tirthan Valley as it is not a cosmopolitan destination like Manali or Shimla. But that's the whole purpose of going to Tirthan Valley – you want to enjoy a unique vacation staying in comfortable Cottages in Tirthan Valley or cherishing the hospitality at Tirthan Valley Homestays. Infact, the freshness of Camping in Tirthan Valley or living in Tirthan Valley guesthouses would be an exhilarating experience.
What to do in Tirthan Valley
Tirthan Valley has a pleasant climate, especially in summers and a quintessential pine-scented air all through the year. The scenery presents a sublime and beautiful contrast- the homestays and cottages in Tirthan Valley presents a picture of Himachali loveliness and repose while the outdoors, the jungles, the river, the trekking trail represent the wilderness of Himalayas and its majestic beauty. Fast emerging as a favourite tourist destination, Tirthan Valley has many other fascinating To-Do lists for an enthusiastic traveler. Like –
You can go Trout Fishing in the Tirthan River which is a splendid sight in itself. For a memorable fishing experience, local people and guides can help you train.
Go on an adventure trek because Tirthan Valley is the home of Adventure Camping. There are many hiking trails if you are fit and fabulous and keen to explore namely Balu Nag trail in Gada Gushaini and Jibhi-Chaini trail.
Get lost in the forest cover and detox yourself digitally. Literally, it is one of those places where you don't want to check your emails or tweet… rather you would want to spend time in bird-watching or travelling around the terrain.
Sharpen your photography skills. Tirthan Valley is a photographers' paradise so bring on your DSLRs and capture some award-winning nooks and corners of Himachal Pradesh.
Enjoy adventure to the max if you are a mountain biker. Or go for rock climbing with an expert. Rock climbing will be so interesting that you will start appreciating simple things like stairs, escalators and elevators so much more.
Or simply, take pleasure in a serene and rejuvenating vacation choosing to relax in Tirthan Valley Homestays or Camping in Tirthan Valley. When you choose to stay in cottages of Tirthan Valley, you get a rare chance to spend a few tranquil moments. You would never forget the lovely walks around the cottages or camps you choose to stay in.
Last, but not the least, savour the typical Himachali meal when you stay in a Tirthan Valley guesthouse or homestay. We bet, this would turn out to be the most delicious and affection-loaded meal of your life.
If you still need reasons to plan for a Tirthan Valley vacation , the biggest one is staring in your face – Tirthan Valley is a charming virgin destination of Himachal Pradesh where you can enjoy your vacations minus the crowd and noise! Providing a prefect escapade from the sweltering heat of the plains, Tirthan Valley will be no less than a paradise offering adventure activities plus a much-needed calmness that you crave for in your vacations. No wonder, Tirthan Valley is fast becoming visible on social media as prime movers and wanderlust travelers start exploring it. It is getting acknowledged for its spellbinding nature that has already attracted thousands of travellers this summer who look forward to seeking shelter in the invigorating environment of the Himalayas. The crisp cool air of Tirthan valley would be so rejuvenating and refreshing that you will forget all the anxieties and stress of mundane routine.
So if you are game to plan a memorable vacation, contact the expert and friendly team of Tirthan Valley Homestays to guide you more about Camping in Tirthan Valley or Adventure Camp in Tirthan Valley along with helping you plan a perfect itinerary.