Summer has arrived, and people are already looking for holiday locations to beat the heat. If you are looking for something unexplored yet beautiful, Jibhi could be the best destination for you. It has everything you can ask for – pleasant weather, natural beauty, peace, and less crowd.
Located in Tirthan Valley, Jibhi is an ideal location for travellers looking for a tranquil escape. It offers the right mix of peaceful walks and adventurous treks amidst forests and waterfalls. You will also witness the lush greenery and colourful flora and fauna. It will definitely feel like a different world.
Places to visit in Jibhi
There are many beautiful places to visit in Jibhi where you can enjoy with your family and friends. If you want to get soaked in the beauty of this gorgeous location, here are some tourist attractions in Jibhi that you cannot afford to miss.
Jalori Pass
Nestled at a height of 3000 metres, Jalori Pass is the highest motorable pass in the region. It is 12 km away from Jibhi and offers unparalleled views of the surrounding mountain ranges. You are going to love the drive to Jalori Pass as you will drive through dense green pine forest and snow-capped mountains. The scenic beauty of this location will keep you enchanted throughout the trip.
Serolsar Lake
If you are looking for places to visit in Jibhi, you cannot afford to miss Serolsar Lake. It is a very beautiful lake surrounded by pine trees that offers a peaceful and calm vibe. You can find Serolsar Lake by trekking for about 5-6 kilometres from Jalori Pass. The hike to the lake is easy but we recommend to wear proper shoes and gears for better safety.
Jibhi Waterfall
Jibhi Waterfall is one of the most popular and beautiful places to visit in Jibhi. It is a very secluded spot but attracts every tourist and hiker visiting here. There are many water streams which flow musically on the stones. The entire fall is covered with dense forest and offers a tranquil experience. You can spend an entire day here sitting next to the fall and enjoying the sweet music it produces.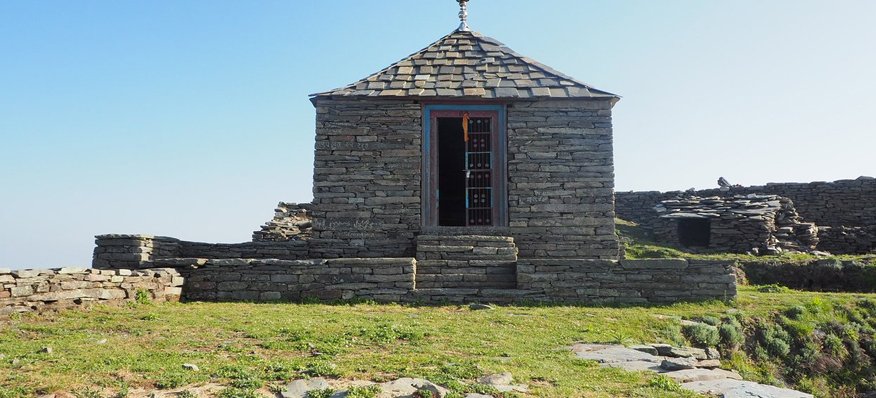 Raghupur Fort
Raghupur Fort is a famous historic tourist attractions in Jibhi. Though not much of the fort is left now except for the external part of the dividers, you can visit here to connect with the history of the fort. The best part of visiting Raghupur Fort is the winding hike that starts from Jalori Pass. It is a 3 km long path that you can cover quickly, though the last 1 km can be a bit tricky. 
Chehni Kothi
Chehni Kothi is a spectacular tower made of stone and wood found in Chehni Village. You can keep an entire day to visit this amazing tower. You need to drive around 7-9 kms from Jibhi to reach the village. Once you reach Shringa Rishi Gate, you need to trek for around an hour to reach the tower. You can also visit Shringa Rishi Temple once you reach at the top.
Best Time to Visit Jibhi
The best time to visit Jibhi is during summers from March to May. The weather stays extremely pleasant to experience all places to visit in Jibhi. Days are warm due to the sunlight and nights are comfortably cold. This is also the best time visit Jibhi if you are travelling with kids. You will surely enjoy your trip during this time of the year.
Monsoon is also a good time to visit Jibhi if you enjoy light drizzles. Though trekking and hiking can be a bit tricky due to slippery paths.
Visiting Jibhi in winters can be a whole new experience as the entire landscape gets covered in snow. The weather can get extremely cold during the winter months from October to January.